I am a Licensed Mental Health Counselor and Certified Addiction Professional. I am an experienced Psychedelic Therapist working with psychedelic medicines and trained through the MDMA Therapy Training Program at the Multidisciplinary Association for Psychedelic Studies (MAPS) in 2021.
I assist my clients with pre-counseling, medicine journeys, and post-integration work and understanding the inner healing journey using legal psychedelic medicines.
What is Ketamine Assisted Psychotherapy?
This is a form of Psychedelic Assisted Therapy, a leading-edge treatment approach to mental health that is well established by decades of medical research. Ketamine as a psychedelic treatment temporarily modifies consciousness, promoting mood changes and lifting anxiety and depression.
Most clients have between one to three psychedelic medicine sessions where ketamine will be taken as a lozenge that dissolves in your mouth (no needles.)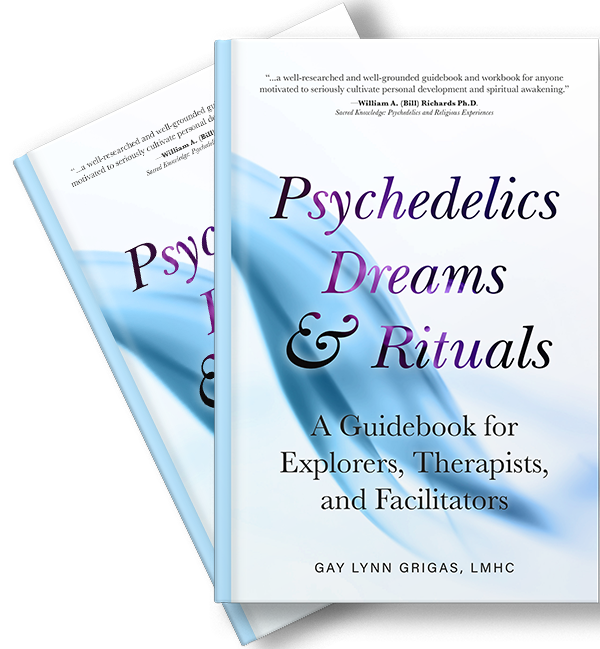 Psychedelic
Journey Guidebook
The fantastic first 50 pages of my new book are a detailed and fully exclusive Psychedelic Journey Guidebook explaining how to prepare and enter the journey of using psychedelic medicines and the triune pathways. Chapter one provides a planned and methodical outline of questions, exercises, journaling prompts, and self-exploration meant to help with the pre-session preparation, how to be on the medicine journey, and then post-integration questions and prompts utilizing rituals and dream work….


My experience with Gay Lynn was beyond amazing. She's helped me for months now, and I've met all the goals I set in the beginning and more. She's supportive and knowledgeable!   
Register now to hear the rest of this meditation as well as the full collection as they are released.